I have been going through cabinets and cupboard and unearthed a lot of junk and a few treasures. Like my powder compacts. I'm not a collector, I have only two, but they were given to me by my grandmother's and I love them. They also fit into this blog, so I felt I had to showed them off.
The oldest was given to me by my maternal grandmother and is from the 1930's. It is made of a yellow metal and was once covered with gold, you can see traces of it on the sides and completely on the inside. There is a small elephant on the lid and my grandmother told me that it was enamelled, but that has long since gone.
Inside there is a mirror that unfolds by itself when you open it. As you can see there are two compartment, the one in the lid was meant for pressed rouge, the one ion the bottom for pressed powder. You bought the make-up separately and fitted it into the holes. There is two words stamped inside, "Marinello" and "PAT.PEND.". The compact is 6 cm long and 5 cm wide at its widest point.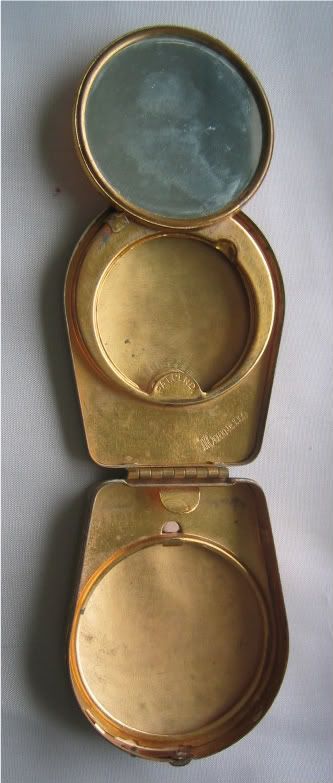 The other powder compact comes from my paternal grandmother Elsa and is from the 1940's. It's a bit more luxurious. The lid is in red enamel with an enamelled rose, surrounded by six rhinestones.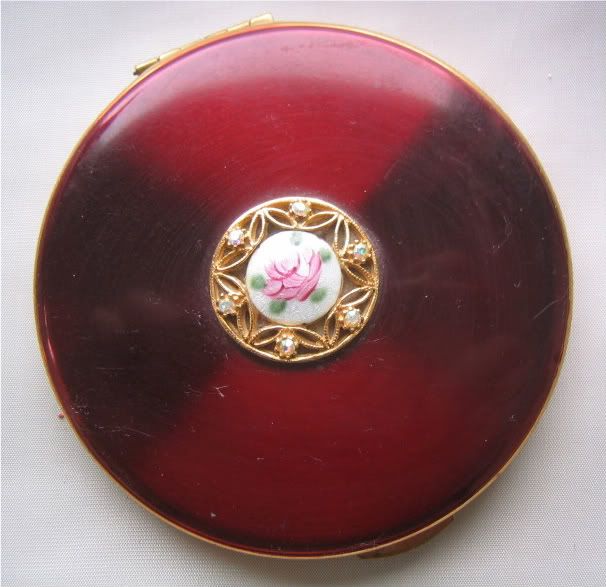 It was meant for loose powder. As you can see, at some point Elsa decided to use it for loose rouge instead. It measures 8,5 cm across.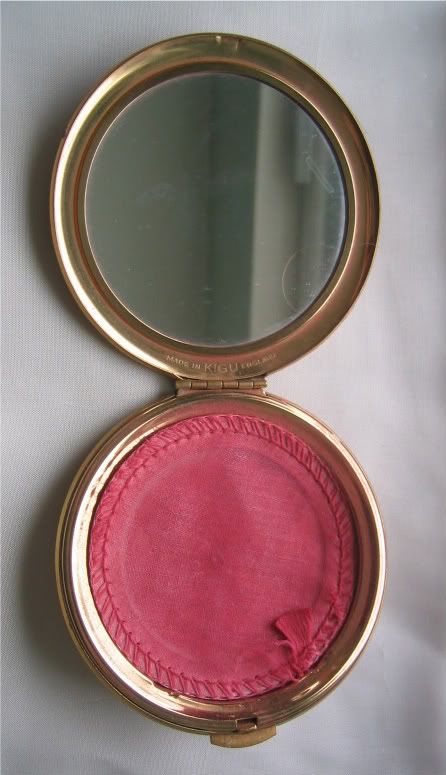 In the bottom, underneath the remaints of rouge, there is a paper where you can read: "KIGU of London. Convertible for loose or solid powder. The highly polished finish is protected by an invisible film of transparent enamel. The inside of the powder compact is also stamped "Made in KIGU England"
A quick google tells me that there is a
The House of KIGU
website with their powder compacts. I didn't found my compact, but here is
a black one
from the forties that is very similar. Marinello powder compacts are also around and though I have seen some with elephants on, I haven't come across any with the same shape as mine. I did find this cute ad for powder, though.