So far I have only had time to start planning and this is what I have come up with this far. I will, if I find something suitable, by it, be it a reproduction or an original. I have little hopes on finding old clothes that actually fits me, but some accessories hunting will have to take place. I feel inclined to use reproduction pattern for size reason as well. Original patterns rarely go up to my size, but if I find one I really, really want, I can probably take the hassle to enlarge it. And I can always draft my own pattern, if I need to. At the moment I have started to look around for a coat pattern I like.
A grey wool shirt dress
I love wool, I love grey, but I don't like shirt dresses. I have a feeling that it's a pointer that this dress is meant for everyday and not a party. I'm already engaged in
Casey's swing dress sew-along
, so I dub that dress to be similar to a shirt dress. And as I already have a fabric for that one and it isn't grey wool, the colour and fabric will change too. However, it is in a grayish green colour and I think it will work well with both brown and green, so I feel confident it will work in the wardrobe anyway.
Simple, long evening gown in black heavy canton crepe
It would be very fun to sew, but how often do one use an evening gown? And I already have one from a Vintage Vogue Pattern, dated to 1944. Blue, but not black and it needs to be re-fitted as it is a bit loose around the waist. So for the time being, a black evening gown will be on the back-burner.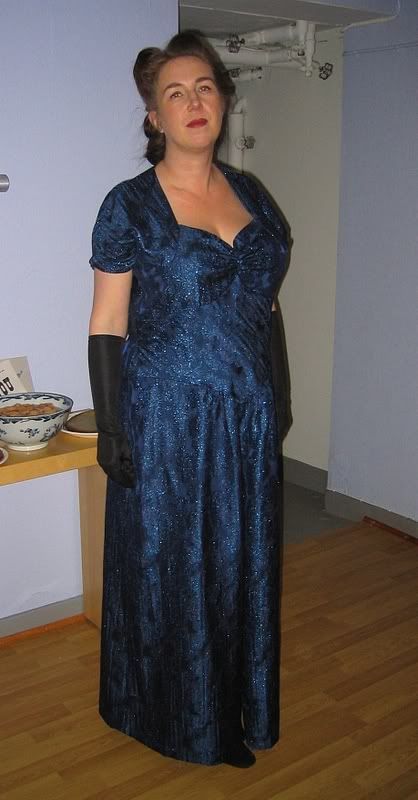 Housecoat with a belt in thin cotton
Will I need one? I'm not sure and this will be pushed back along with the evening gown for now.
Coat in grey lamb fur
Furs are gorgeous and I feel it was a very important garment in the forties, but I simply can't stand the thought on getting a second-hand coat. Way too icky. Luckily there is faux fur. A first survey on what can be found indicates that you can get faux Persian lamb, but not in grey. You can get it green or pink, but not grey. I will keep on looking, but I think a brown fur would work as well, and then I can find a lot more. Beaver and seal were also popular, so at the moment I'm inclined toward a faux brown beaver fur.
A brown sport suit in three pieces, jacket, trousers and skirt
A part of this project is to push my sewing boundaries, and this one does! You see, I haven't worn trousers in 18 years. I have a pair of jeans that I use a few times a year, but that is that. And a large part of why I stop wearing them was fitting troubles. I'm high-waisted with a big difference between waist and hips. Even in my thinnest day I had a bit of a tummy, and no matter the weight I have a flat derrière. To find trousers that fitted and looked good was really difficult and as I have always liked skirts more anyway, it wasn't hard to just wear that. It could be fun to try to sew a pair of trousers, though.
A red sweater and a white sweater
I haven't knitted in years. The jury is still out if I am to try my hand on that again.
Brown bag in reptile skin
I think I will change that to a green 1940's handbag I already have. And then try to find belt, hand and scarf that match the bag…