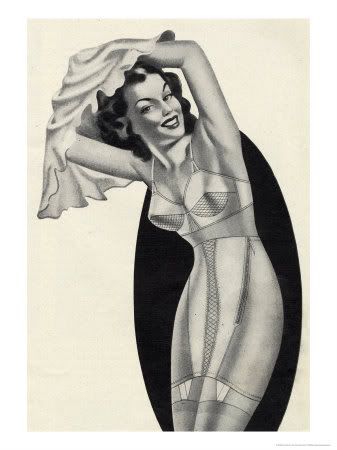 As you may have noticed, my list of clothes to get doesn't include underwear. That doesn't mean that this delicate subject isn't mentioned at all, the good book has a few things to say about it. To begin with it bemoan that Swedish women care less about their underwear compared to the rest of Scandinavia and should learn from them to use "bembergsiden", artificial silk or satin crepe instead of silk jersey. Corsets and bras should be well-fitting and don't compress the body too much. The best is a corselet, but make sure that it's long enough, otherwise it will pull down the shoulders and breasts! But if you were slim enough, a bra doesn't seem to have been a must. As I mentioned earlier my grandmother didn't use a bra until she was 33 and had had a baby. She was a very proper person, so she would never have done that if it hadn't been all right. Slips are not just to make sure that you can't see through a skirt in bright light, but also to give the clothes shape.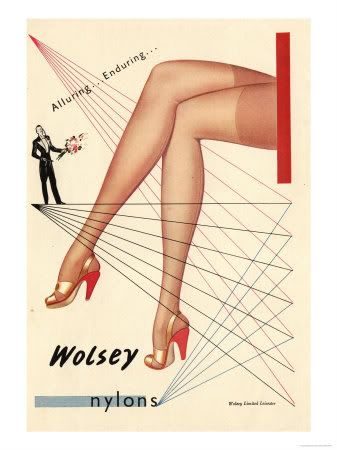 It is the stockings that get the most attention, though. No doubt due to the war, nylon wasn't to be had in Sweden in 1944. Silk and artificial silk are compared and silk are considered to hold up better. And they should get washed after every use! Artificial silk too, but they should be washed as soon as you take them off, or their shape will get hopeless. The thickness of the stockings are in threads, not denier. The less threads, the thinner the stocking. Consider the colour and check it out in the light it will be worn in, daylight or electric. Save money in buying several stockings in the same colour and thread count, so you you don't have to throw away a pair just because on stocking gets past mending. In cold weather a well dressed lady use wool stockings when outside, but remember to wash them after one or two uses and not in too hot water.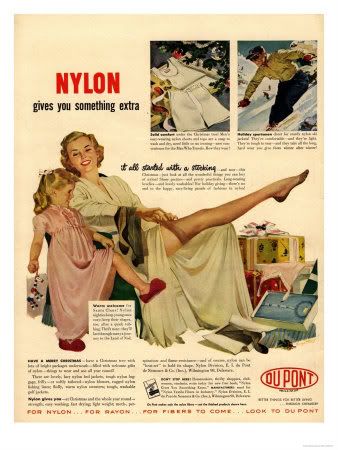 And where should a modern girl find retro underwear. The obvious choice is probably
What Katie Did
. They have the L6036 CC09 bra which is based on 1940's lingerie as well as knickers and shape wear. They also have a good selection of stockings. I have been very pleased with my purchases, so I will probably turn to them for additional knickers and slips, but when it comes to bras I have a problem. I have an unusual size and have difficulties finding a well-fitting bra to begin with. Finding one with a more retro shape seems impossible. The above mentioned bra doesn't sport larger cups than D and even their spiral bra, which is 1950's anyway, doesn't go higher than F. So for now I will have to stick with my usual brands and try to find models that are classic. There is also
Pom Pom Parlour
, a Swedish retro shop that now has an international webshop. They have their own brand of stockings that are quite new. I haven't tried them on, but handled them and they seem to be good quality stockings.
Anyone know other places to go to for 1940's lingerie?