I promise that I won't keep flooding with posts like this. It's just that I have written most on all three when I felt too befuddled by cold to post. Hence this many in one day.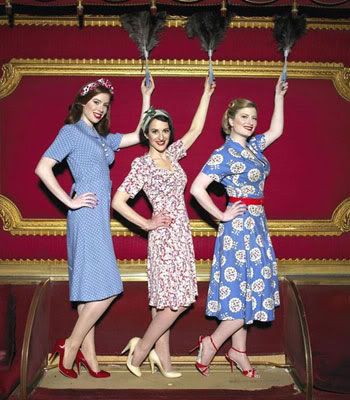 I usually listen to music when I sew and often, if not always, what I listen to is inspired of what I'm sewing on. Mozart and Bach when sewing 18th century for example. Inspiring music from the 1940's isn't hard to find, especially not with Spotify, but don't you agree that it could be fitting to listen to reproduction music when sewing reproduction clothes? Soi if you don't already know about them, I strongly urge you to listen to
The Puppini Sisters
. If you think that they are inspired by The Andrews Sisters you are not wrong, but they are also influenced by The Boswell Sisters, Marlene Dietrich, Fred Astaire and Ginger Rogers, Kate Bush, Mike Flowers, Joan Crawford, The Smiths, and Tom Waits. They make covers on 1940's songs, but also modern or own material, but they always sound like it from the forties. So far there have been three albums,
Betcha Bottom Dollar, The Rise and Fall of Ruby Woo
and
Christmas with the Puppini Sisters
.